Web Log Entry #0036, Thursday, January 23, 2003: Day 66
Anchorage Sunrise: 9:42am Sunset: 4:41pm High Temp: 23° Low Temp: 10°


Okay, I get a lot of comments like "Ha ha! That Evan, always going on about being eaten! What a joker!" Well, I admit I don't have any photographic evidence of carnivorous moose yet, but below are two frames from an mpg file I received in an ACTUAL email! From the Internet! It clearly showed an innocent ice-fisherperson BEING EATEN! (Well, in the name of accuracy, we just see them disappear under the ice, so I don't know FOR SURE that he gets swallowed, but what are the odds?) Just a reminder that we don't hold that #1 slot at the top of the food chain, so let's all be careful out there...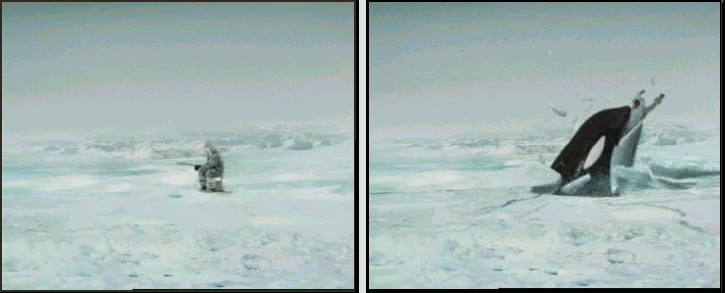 <== Previous - - - - - - - - - - - - - - - - - - - - Next ==>
---
---
© 2003 Evan M. Nichols